Quote:
DIVS, Ekaterinburg - In his first fight on Russian soil since 2011, IBF/WBO/WBA light heavyweight champion Sergey Kovalev (30-0-1, 26KOs) won a twelve round unanimous decision over the ultra durable Isaac Chilemba (24-4-2, 10KOs).

The scores were 117-110, 116-111 and 118-109. Coming into this fight, Chilemba held a 3-0 win streak over Russian fighters and vowed that he would never lose to a Russian. That streak was obviously broken.

The victory moves Kovalev forward with a fall HBO Pay-Per-View showdown with Andre Ward (29-0, 15KOs). Ward now has to do his part by winning his scheduled fight on August 6th against Alexander Brand in Oakland, California.

At the start, Kovalev's power was on display very early as every shot was pushing Chilemba back. Chilmba was mostly being defensive and looking for openings that weren't being made available. Kovalev began to let his hands go in the third, tagging Chilemba with some telling blows. Kovalev was working a good jab to work his way in. Chilemba was using his own jab and looking to counter when Kovalev would push forward to get inside.

Chilemba came out swinging in the fifth round, landing a few punches which promoted Kovalev to fire back. They quickly settled own and started battling each other with jabs. Chilemba was landing occasional counters, but was missing the necessary power to do any damage.

During the seventh, Chilemba got clipped hard and went down. He was able to beat the count and Kovalev went on the attack and was throwing hard to close the show - with Chilemba surviving to get out of the round. Chilemba was rocked once again during the final minute of the eight round. Kovalev once again worked to finish him off and once again Chilemba survived.

The remainder of the fight was dominated by Kovalev, who came forward with hard punches and a good jab, while Chilemba was was surviving for the most part. Chilemba tried to rally and fight in the twelfth and final round, but he was unable to hurt the champion and took some very big shots.
http://www.boxingscene.com/sergey-ko...s-ward--106551
After the match, with all his belts and his more precious treasure in his arms, son Aleksandr (b. 2014); and wife Natalia standing behind him
Kovalev is the top fighter in his weight class, he holds virtually ALL the championship belts in it.
He has dedicated his victory to the memory of and pledged to donate all his proceeds of the fight to the family of fellow Russian and fellow Siberian boxer Roman Simakov
Kovalev, who is from Chelyabinsk and already held the regional
NABA
USA
light heavyweight
champion belt by then, fought Simakov,
WBC
–
ABCO
light heavyweight champion in a ultimate batle to determine who is the top fighter from Siberia, in 2011:
https://www.youtube.com/watch?v=Wki4DeJe82s
He was 28, Simakov - 27.
He ended up beating Simakov into a coma, basically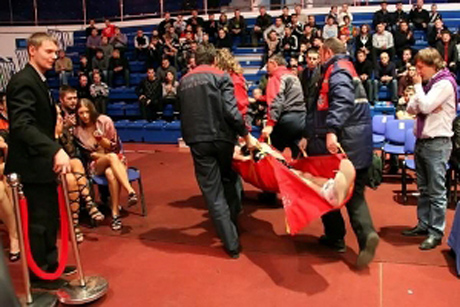 Simakov died in hospital hours later
http://sports.ndtv.com/boxing/news/1...apsing-in-ring
http://www.pravdareport.com/society/...ssian_boxer-0/
He too had a wife and a child
and parents who loved him very much
Such a dumb way for such a young man to die...
And, it seems, Kovalev still feels guilt and remorse over it too, though nobody blames him, really. Most blame Simakov's manager, who let him go into the fight even though he already had a brain injury from a previous one. There is also a rumor Simakov may have been suffering from more than a concussion: a fatal brain tumor, and he chose to go out and die like a fighter, in the ring, on his own terms. Well, that is what his fans say to feel better about it, anyway.
In any case, good for Kovalev. Great fighter, good man.