Quote:
The Russian Armed Forces have been equipped with laser weapons, the country's deputy defense minister said.

SAROV (Sputnik) — The Russian Armed Forces already have some types of laser weaponry in service, Deputy Defense Minister Yuri Borisov said Tuesday.

"It is not some sort of exotics anymore, those are not experimental, prototype models — we have already commissioned several types of laser weaponry," Borisov said addressing an event commemorating the 70th anniversary of All-Russian Research Institute for Experimental Physics (RFNC-VNIIEF) in Sarov.

Borisov earlier said that weaponry based on new physics principles (beam, geophysical, wave, kinetic and other types of weapons) would define the shape of the Russian Armed Forces under the new state arms procurement program until 2025.
http://sputniknews.com/military/2016...r-weapons.html
General of the Army Yuri Borisov, Russia's Deputy Minister of Defense
He did not say what sort of weapons the military has now, but it is known that, back in the day, Soviet scientists had worked on a powerful multi-barrel laser cannon mounted on a T-64, and later on T-72 tank platform
In early 70s, when Mao was still in power, a horde of Red Chinese radicals attempted to invade Soviet Kazakhstan. Supposedly, Soviet forces attacked the Chinese with a defensive line of self-propelled weapons that cut them to pieces with death beams or rays, dozens of men at a time... Officially, it was said the military used flame throwers against the Chinese. But, I read testimony from men who were there... Whatever those things were, they were not like any flamethrower...
Russia was left a huge, rich, and deadly inheritance... And it is said, Putin has been opening up many old projects in recent years...
We know the US Navy now has warships with laser cannons
Could it be that Russia already secretly possesses similar technology?! And have, even BEFORE you Americans???
We are being shown all these rapid advancements in military technology this year... Robotics too.
There is a facility called "Central Scientific Research Institute of Precise Mechanical Engineering" and they are now making all kinds of crazy shit.
For example, they have developed a robot that can work in either "copy regime", controlled by a human operator with a special suit, so the robot copies the movements of the human:
https://www.youtube.com/watch?v=-37jQwgHaLA
Or it can function automatically, autonomously.
It can drive a car (or a simulator, at least lol):
https://www.youtube.com/watch?v=X3dghIxzfh8
And use complex electric-powered tools:
https://www.youtube.com/watch?v=u_aI4BbKTsM
They have also this year rolled out the new
Rys
("Bobcat") combat robot for the military
which even Russian articles acknowledge looks a lot like the American "BigDog" made by Boston Dynamics lol
Probably the intel services had their share in this breakthrough hehe The Russian Bobcat is apparently larger than the American Dog though, and carries a bigger load.
They are also creating a new exoskeleton for the Spetsnaz, that will give troops superhuman strength
All this, or most of it, was unveiled this year, in April:
https://geektimes.ru/post/274935/
http://www.sdelanounas.ru/blogs/76902/
The Russian military already fields an array of robots, for example the sappers, the explosives units, are now equipped with all sorts of bots for clearing mines, mostly huge, lumbering "Uran" models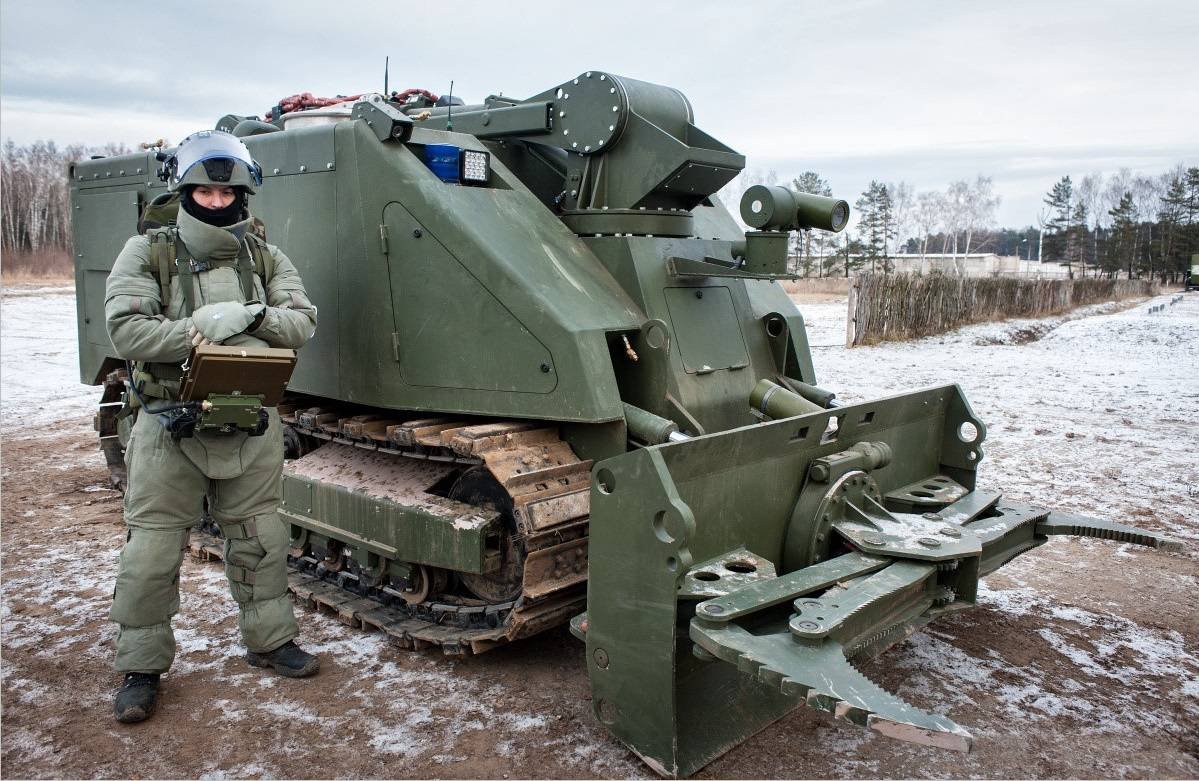 Those were battle-tested for first time in Palmyra not that long ago:
http://sputniknews.com/videoclub/201...s-palmyra.html
The Marines, at least in the Pacific Fleet, have "Platforma-M" attack bots
My personal favorite, so far is the Uran-9
https://www.youtube.com/watch?v=MuTlMNpyAzg
Those things are like fucking tanks... but with no pilots in harm's way!
It has also been claimed that Russian combat robots were used in Syria alongside SAA troops, and killed 70 jihadi fighters in Latakia province last year:
http://www.fort-russ.com/2015/12/syr...s-made-in.html
Who knows... Syria has certainly served as a great testing ground for all kinds of new weapons of our military...
Anyway, there are more peaceful advancements as well:
http://rbth.com/science_and_tech/201...keleton_614195
Crazy. Most Russians never even knew facilities where such things are designed and produced in Russia actually existed! I suppose the government wanted it that way though lol They must have been working on all this for years... It is driving people to believe all sorts of things, from old secret Soviet files being reopened, which is what I figure; to our government covertly working with aliens from other planets haha